Cotswold Class 16 17
Welcome!
SUMMER TERM
WHAT ARE WE GOING TO BE LEARNING ABOUT THIS TERM?
CLICK ON THE LINK FOR OUR PROGRAMME OF STUDY
e safety real
Date modified :
2017-07-13
Date modified :
2017-11-02
SPRING TERM
Cotswold Class is made up of 20 year three children and 5 year four children.
Our teachers are Mr Brown (Mon/Tues) and Mrs Daniels (Wed/Thurs/Fri).
The teaching assistants who work with us are Mrs Blackbrough, Mrs Tustin, Mrs Bindley and Mrs Ellis.
WHAT ARE WE GOING TO BE LEARNING ABOUT THIS TERM?
CLICK ON THE LINK FOR OUR PROGRAMME OF STUDY
WHAT DID WE LEARN ABOUT LAST TERM?
Diwali
Recently we had a special Diwali Day to celebrate the Hindu New Year Festival of Lights. We heard the story of Rama and Sita and how people lit diva lamps to welcome home Rama and his wife, Sita, after he had rescued her from capture by Ravana, the demon king.
We had a fantastic time making diva lamps in clay and painting and decorating them:
English
This term we are beginning a new writing programme called 'Big Writing Adventures'. It is based on an exciting online world in which characters present a series of 'Writing Missions'.
In our first mission, 'The Aliens are coming!', we enjoyed writing vivid descriptions of alien creatures and described what happened when they visited a character called Tiger.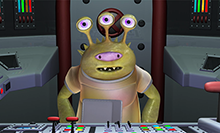 We are now on our second mission called 'A Giant Birthday'.
Giants, Anastasia and Archibald Grande are hosting a partly in cloudland and they need help to send invitations, write directions and handle a complaint.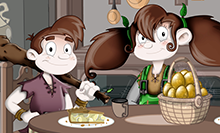 Cotswold Class to the rescue!
History - "What was important to our local Victorians?"
In history we are beginning to learn about the Victorians and, in particular, an important local Victorian architect: Frederick Preedy.
Only the 15th century tower remains of our church, St Mary and St Milburgh, in Offenham. The rest was rebuilt in 1861-62 by Frederick Preedy, who was born in the village. We are going to be finding out about our famous local Victorian.
Please bring in any photographs or information you may have about local Victorian history!
We will also be learning about a more famous Victorian:

Queen Victoria
Update: January 2017
Here are some photos of our church visit:
Geography
Our geography topic is: "Can the Earth shake, rattle and roll?"
In it we are exploring how the Earth is constantly moving. We are learning about the structure of the Earth, looking particularly at earthquakes and volcanoes. Also we are finding out where and why they happen and how they affect people.
We started by making 3-D models to show how techtonic plates collide.
Before the earthquake...
then...

...EARTHQUAKE!
See how the techtonic plates have moved sideways and then twisted along the fault line.
Also, we have made some erupting volcanoes.
Ingredients for the lava: warm water, washing up liquid, bicarbonate of soda and vinegar.
Science
In our science lessons we are learning about 'Our changing world' and 'How does your garden grow'. This includes looking at how our plant life changes through the seasons and classifying and observing changes over time.
The Year 4 children will complete work on sound and states of matter (solids, liquids and gases).
E-safety
Using the 'Cyber Cafe' program we have been learning how to use technology safely and respectfully.
Swimming
This term the Year 4s will complete ten weeks of swimming.

Compton Verney near Stratford upon-Avon is the venue for the Key Stage Two trip this term where we will visit the art gallery and take part in creative writing and art workshops.
The Key Stage Two Christmas assembly is on the morning of Wednesday 14th December in the hall.
Homework
We take our reading books home every night. At the end of the week, if we have read at least 4 times, we will be awarded two house points.
We will have new spellings every other Friday for testing the following Friday.
We will also bring home a reading journal on alternative Fridays to complete.
Maths homework will be set on a Thursday for the following Tuesday.